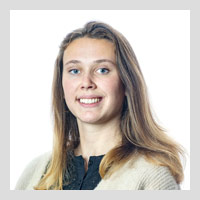 Leah works as a junior associate at Maverick Advocaten. Previously, Leah worked as a paralegal at Maverick Advocaten.
In 2018 Leah obtained her bachelor's degree in law with cum laude distinction from the Utrecht Law College. She studied at the Université Toulouse I Capitole for half a year. During her studies, she did an internship at the Energy Department of the Dutch Authority for Consumers and Markets and at the competition section of a large law firm in Amsterdam.
In 2019 Leah obtained her Master's degree in Law & Economics (cum laude) at Utrecht University. Her thesis on competition law and the protection of self-employed persons without employees was awarded as the best Master's thesis in the field of competition law. In 2020, Leah obtained her Master's degree in Health Economics, Policy and Law at the Erasmus University Rotterdam.